The Expert Day of My Future, Our Society - Foundation P&V
The Expert Day of My Future, Our Society
The laureates of My Future, Our Society passed an extensive selection procedure. After an initial screening, the P&V Foundation invited the representatives of the 32 most promising projects to its Expert Day in Brussels. Here, the teams were able to present, defend and fine-tune their projects. A jury then selected the eight laureates, four Dutch-speaking and four French-speaking. They will receive grants between 10,000 and 50,000 euros, depending on their requested budget.
Program
The day was held in the centre of Brussels at the Beursschouwburg.
We invited four inspiring speakers:
Eva De Baerdemaeker
Founder and coordinator of Cultureghem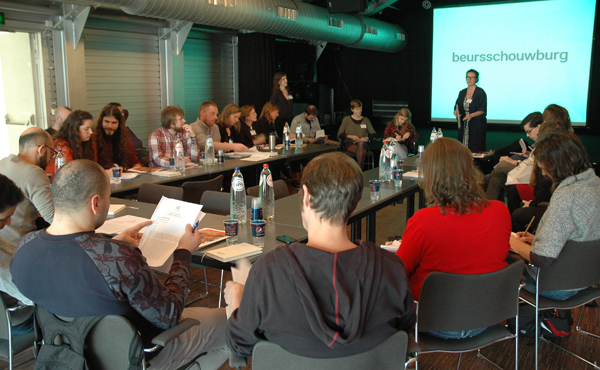 Brussels diversity is present around and on the site of Abattoir in Cureghem. The immediate surroundings of the site are home to no fewer than 170 nationalities. The 10,000m² of Abattoir in Anderlecht welcomes 100,000 people every weekend during the various markets. Cultureghem taps into the potential of this vibrant meeting place and, during the week, provides a response to the acute need of residents in Anderlecht and, by extension, the whole of Brussels for quality public space. A classroom, a playground, a football pitch, a kitchen, an exhibition, an urban living ... as many spaces for as many uses and users in the city.
Eva De Baerdemaeker is the driving force of Cultureghem. Her projects start from a place, not from a specific target group or from a particular policy domain. Besides (re)using the same space over and over again, she and her team knit a common thread throughout all projects: they connect and link, bundle stories and turn them into a whole.
Julie De Pimodan
Founder and CEO of Fluicity
Julie de Pimodan worked for seven years as a journalist and entrepreneur in media and press groups in the Middle East, mainly in Yemen, the United Arab Emirates and Turkey, during the period of the Arab Spring. She then worked for four years at Google, within the "DoubleClick" team, where she led the sales team in emerging countries.Today, Julie is the founder and CEO of Fluicity, a platform that uses technology and data analytics to bring local governments and their citizens together. The platform is used by mayors and citizens from a dozen Belgian and French cities. Julie received the best innovator under 35 award in France in 2015, awarded by the Massachussets Institute of Technology (MIT).
A press article on Fluicity and the P&V Foundation appeared in Moustique Magazine of 28 February 2018: "La parole aux Citoyens"
Frank Van Massenhove
Chairmand FOD Social Security
Frank Van Massenhove is a government manager with a mission. Under his leadership, the FPS Social Security was transformed into a model organisation, in which many private companies also seek and find inspiration. His formula for success? Happiness. His vision? The New World of Work and the search for ways to enable people to take back control of their lives. His approach earned Van Massenhove the title of "Government Manager of the Year" in 2007.
Frank Van Massenhove is also known as a man with an opinion. He writes columns, is very active on Twitter, and sometimes intervenes sharply in the public debate. He has been a member of the Advisory Board and Board of Directors of the P&V Foundation since its inception.
https://frankvanmassenhove.org/
Ari Brodach
Manager of the participatory budget of the city of Paris
Ari Brodach has a career steeped in various interests: participatory democracy, the common good, territorial public action, the management of public goods and basic services. He was first deputy director of Auxilia, then successively director of sustainable development for the City of Lille and the Centre National de la Fonction Publique Territoriale (National Centre of Territorial Public Service).
Since 2015, Ari Brodach has been in charge of Paris' Participatory Budget. Parisians can propose investment projects for their arrondissement and/or for the whole of Paris. 5% of the city's investment budget, or around half a billion euros until 2020, is dedicated to these projects. In 2017, the participatory budget amounts to 100 million euros. 30 million euros is dedicated to vulnerable neighbourhoods, with the aim of promoting the creation of projects in these neighbourhoods. 10 million euros is dedicated to primary and secondary schools to strengthen the participation of children and young people in the life of the city.